Health and safety compliance considerations for surveyors
8th February 2022
Safety is paramount in all industries, not just to protect people but to ensure that businesses remain compliant with health and safety legislation. Whether you're a commercial landlord or a prospective tenant, you might not realise that surveyors could be at risk in your property. These are a few of the elements often overlooked when surveying a building that could pose a threat to surveyors. 
Risk assessments
The first step a surveyor should take is to carry out a risk assessment prior to the inspection, identifying how they can minimise any risks that they identify. It can be useful to have evidence of this in case of an accident during the survey, and it also means that any issues that could limit your inspection will be noted. They will need to familiarise themselves with the layout of the building and be clear on the exit points of the property so they can leave safely and quickly if an emergency occurs.
Derelict buildings
In some cases, surveyors might be faced with a property in disrepair where a report identifies more serious 'condition 3' defects which need to be repaired or investigated as a matter of urgency. This can put surveyors at risk, so if you sustain an injury during the inspection, postponing it until you have recovered from your injuries can ensure you don't come to any further harm.
If you're working alone, you need to be aware of the risks that come with being in a derelict building. For example, if the property has been left for some time, it might have been subjected to stagnant conditions that have led to dormant wood rot, or leaking roofs that could cause ceilings to collapse.
Likewise, vandals may have caused damage that could result in broken glass or sharp edges around the property. So, surveyors need to protect themselves as much as possible by dressing in robust clothing and footwear that's designed to protect, ensuring they have a powerful torch with them, check for bare cables or dangling wires when accessing a room, and being mindful of the smell of gas from appliances or heaters that might have been left.
Loft inspections
Inspections for lofts are a key feature of a survey, but they're also one of the riskiest aspects of the inspection. So, it's essential that surveyors exercise caution when carrying out this element. Firstly, surveyors need to know how to use ladders and any additional equipment safely and have had safety training on this to minimise the risk of accidents. But, it's also important that the ladders used have been inspected to ensure they're safe to use. This inspection should be carried out by someone qualified and competent for the task, and that the details have been recorded on the Ladder Association's Statutory Register.
When you're working at height, check that it's absolutely necessary for you to do so before you begin. Sometimes it can't be avoided, but if there is a safer alternative, this should always be the first port of call. Where you can't eliminate the risk, do as much work as you can from the ground and then ensure that there's a safe route to where you need to work from height. The equipment shouldn't be overloaded and surveyors should ensure they're not overreaching when they're working, as this can cause the ladder to tip or the surveyor to injure themselves by stretching beyond their limits.
Roof voids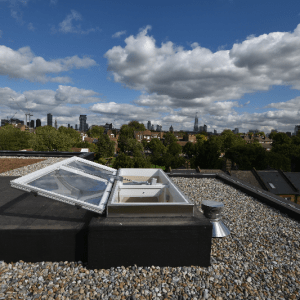 Surveyors will be tasked with looking inside roof voids and often have to enter into them too. However, this requires an assessment from the surveyor to judge whether this is practical and safe to do. There are obvious risks to entering a roof void from the various hazards you could encounter, many of which could be unknown until you're already in a difficult position. Surveyors need to assess that the method they're using is safe and stable, not just moving into the space but also when shifting equipment around.
Before entering the roof, check for any obstructions or dangers that might be lurking, which includes checking for signs of infestation from wasps, rodents or bats. Surveyors also need to check that any floors that have been laid are suitable to walk on and are securely fixed in place, while also means checking for any protruding nails that could cause an injury. A roof void may also have a presence of asbestos, so if this is spotted, the surveyor needs to exit the roof immediately to avoid the associated health risks, causing as little disturbance as possible to the material.
Flat roofs
If the survey requires an inspection of a flat roof, surveyors need to judge whether it's practical and permitted to inspect the area without causing damage to the space or themselves. Often, a flat roof can be visually inspected from a vantage point from the property grounds, which should be the priority to avoid the risk of the roof collapsing if it's not stable. Surveyors might be at risk of sharp edges from damaged materials, loose materials that could pose a trip hazard and dust inhalation. They should wear suitable clothing and a mask if possible to prevent inhaling any harmful substances. And, as with roof voids, there could be the threat of insects or rodent infestations.
Key takeaways
With the risk of hazardous materials, derelict buildings and the increased position of being alone (without any support or assistance to hand), surveyors often work in difficult conditions. Health and safety is a key feature of any job, but it needs to be at the forefront of every decision when you're working in difficult conditions. From making sure you know how to use equipment safely to being mindful of defects and disrepairs, these are some of the key considerations that surveyors need to make to avoid accidents and injuries from occurring.
Source: SHP Online