How construction bosses can protect employees' eye health
24th September 2021
The construction industry has weathered the demands of the coronavirus pandemic, and there are currently more projects on-going then ever. Health and safety is even more important when you are busy and the number of people on site is increasing. With National Eye Health Week taking place between 20 and 26 September, now is a good time to draw attention to eye safety in your company. Equipment supplier Zoro outlines how you can protect the eyesight of your staff.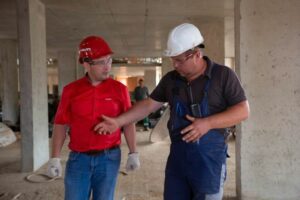 Protecting your employees' eyes when they are working on-site is a UK law requirement, but you might not be aware of the many steps you can take beyond workers wearing goggles and glasses. Construction sites can present a variety of hazards for worker's eyes, including falling debris, wood splinters, and flying nails. So it's very important to plan adequate eye protection measures for your employees.
Provide suitable PPE for the eyes
The first important measure to take, is to make sure you are providing adequate personal protective equipment (PPE) to workers.
Adequate PPE includes helmets and gloves, but specifically for eye protection, staff will need durable goggles that enable good vision while also protecting their eyes from dust and falling objects. Goggles with anti-fog ventilation and anti-scratch materials will offer both protection and good vision in changing environments.
The use of goggles can also be combined with the use of safety glasses. These are a useful option when the eye area does not need to be completely covered, and can still offer protection against impacts from anything flying through the air. If there are dangerous flying particles around, the last layer of protection is a face shield, employers should have these on-hand if their staff are working with metal.
Conduct regular tests on PPE and other equipment
Even if all PPE and machinery is all of good quality, it will need checking, maintaining, and then possibly repairing or replacing. Introduce a system of regular checks to keep all your equipment working well, and repair or replace anything that is faulty.
Making sure that equipment is safe will reduce accidents and make it easier to work in a secured manner. It's also worth introducing rota's for cleaning equipment such as goggles, glasses, and face shields. These need to be cleaned regularly to maintain good vision through them. Cleaning other equipment will reduce the possibility of debris and dust causing eye issues.
Maintain consistency in your health and safety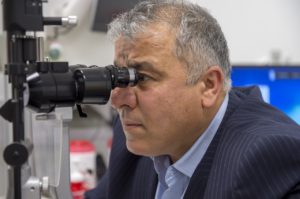 It's important to remain consistent in your health and safety measures so that employees all know what the policy is, and what to expect when they are at work. Company's should have clear protocols for assessing and protecting against dangers on construction sites, and these should always be maintained.
When starting a new project, an assessment of potential hazards must always be conducted. Every project will be different, so it's important to take a step back and think about what your staff might need on each project.
You should also recommend that your employees get regular eye tests. According to the Government guidance on Working safely with display screen equipment, if any of your employees work with screens, you are required by law to arrange eye tests for those staff members if they ask for them. Catching preventable eye problems early can greatly help to mitigate them, and encouraging your staff to get eye tests every year can go a long way in preventing larger issues.
Communicate health and safety policies clearly
Every health and safety policies should be backed up with clear and consistent communication with staff. When health and safety plans for new sites are drawn up, make sure employees are aware of all the protocols you've put in place. This will help avert accidents and ensure that, if accidents do happen, staff understand how to respond to them.
Clear communication on-site will also ensure that employees feel empowered to step in if they see a situation that they fear is unsafe. It will also mean everyone is aware of what's happening throughout the construction site, and can therefore ensure to be wearing appropriate PPE.
Training staff to help them reduce on-site risks
When you have clear protocols developed to avoid and deal with hazards while working, make sure that employees are trained to work safely and consistently. If you take on new employees, make sure to give them sufficient training so that they are comfortable with any equipment they will be using, and understand all of your company's safety procedures.
This will also ensure that employees understand what things are within their remit, and what they need to escalate to management and more senior staff. Having a system in place, and having everyone adequately trained on both machinery and procedures, will ensure that everyone is safer and more efficient on-site.
Kelly Friel, Digital Product Manager at Zoro says: "Construction sites do present risks to those working on them, but by putting some basic health and safety measures in place, you can ensure that your staff will be safe throughout completing their projects. Having adequate PPE and training can ensure that staff will have their eyesight protected. Look for good quality goggles, glasses, and face shields to make sure your workers are all protected from flying debris on-site. With the right equipment and some well-designed safety protocols, you can ensure that all your construction sites are running safely and efficiently."
National Eye Health Week is taking place from the 20 -26 September.
Source: SHP Online